$14.16/filter
Regular price
$263.88
$169.99 total
Unit price
per
Healthier, happier living for pets and people
If you're like other pet parents seeking an effective and safe solution to healthier, fresher air in your home, Colorfil can help.

Our patented technology was developed to improve the quality of life for pets and their people by removing harmful air particles and absorbing strong household odors. And by the way, we do it 5x better than the leading brand.

But that's not all. Maintaining clean, fresh air in your home has never been easier. Our filters magically change color from vibrant pink to yellow as they clean, so you always know when to replace them.
Capture and control odors in your air without covering them up
Changes color from pink to yellow as it neutralizes gas phase odors
Removes dust, dander, and pet hair with MERV 8 efficiency
NASA award-winning technology
3% of every sale goes to help animals in need
All Orders Ship Free

Proudly Made In America

Award-winning Filtration
View full details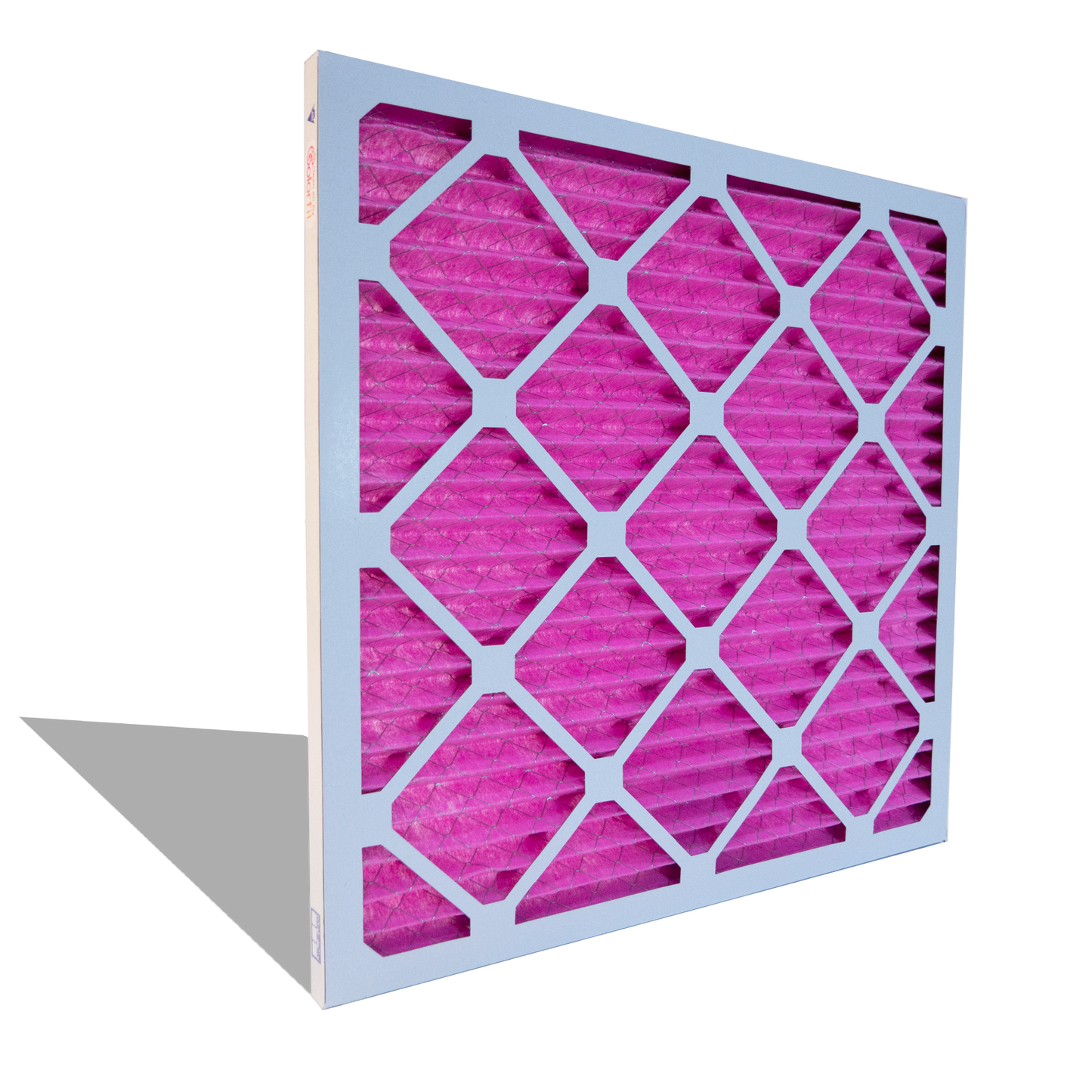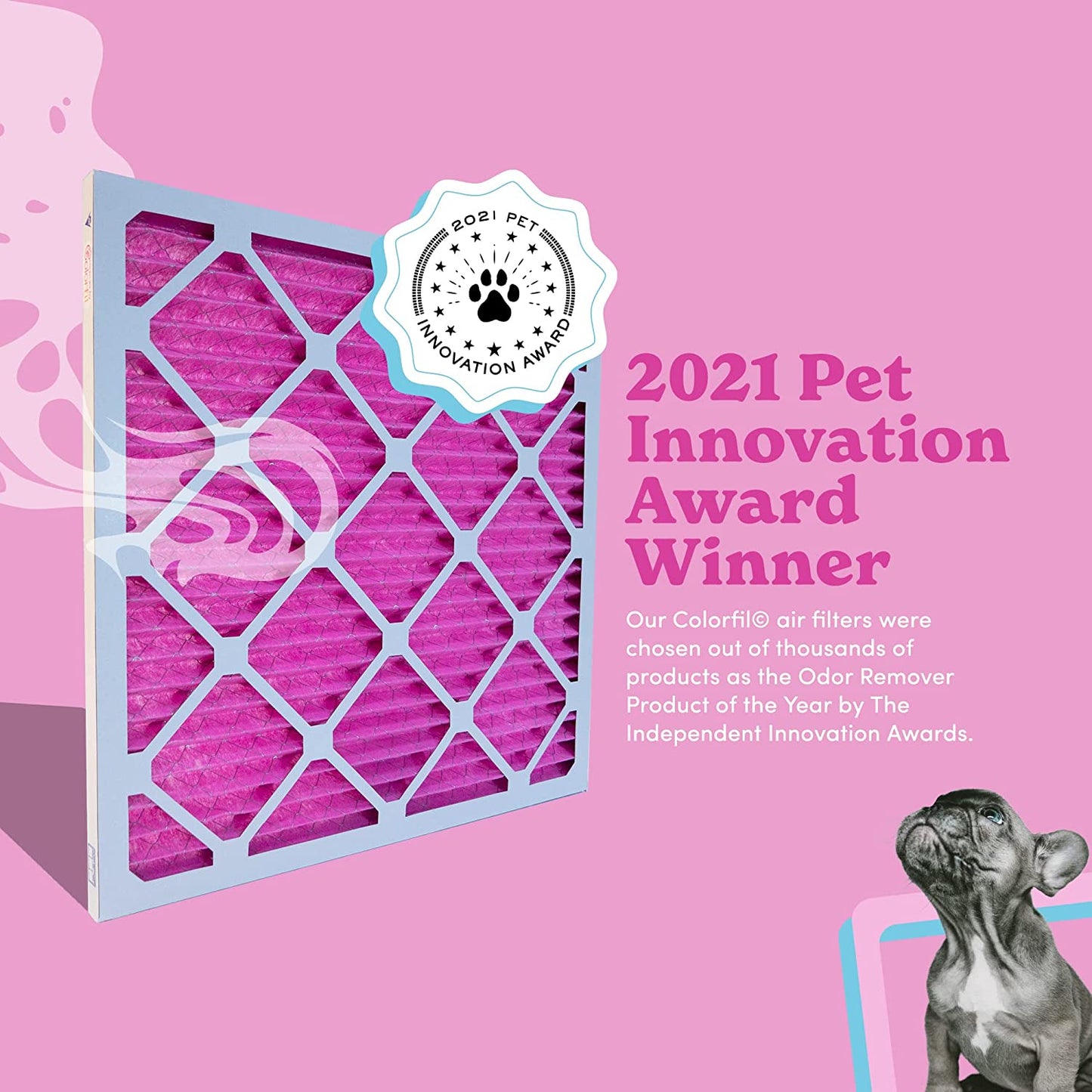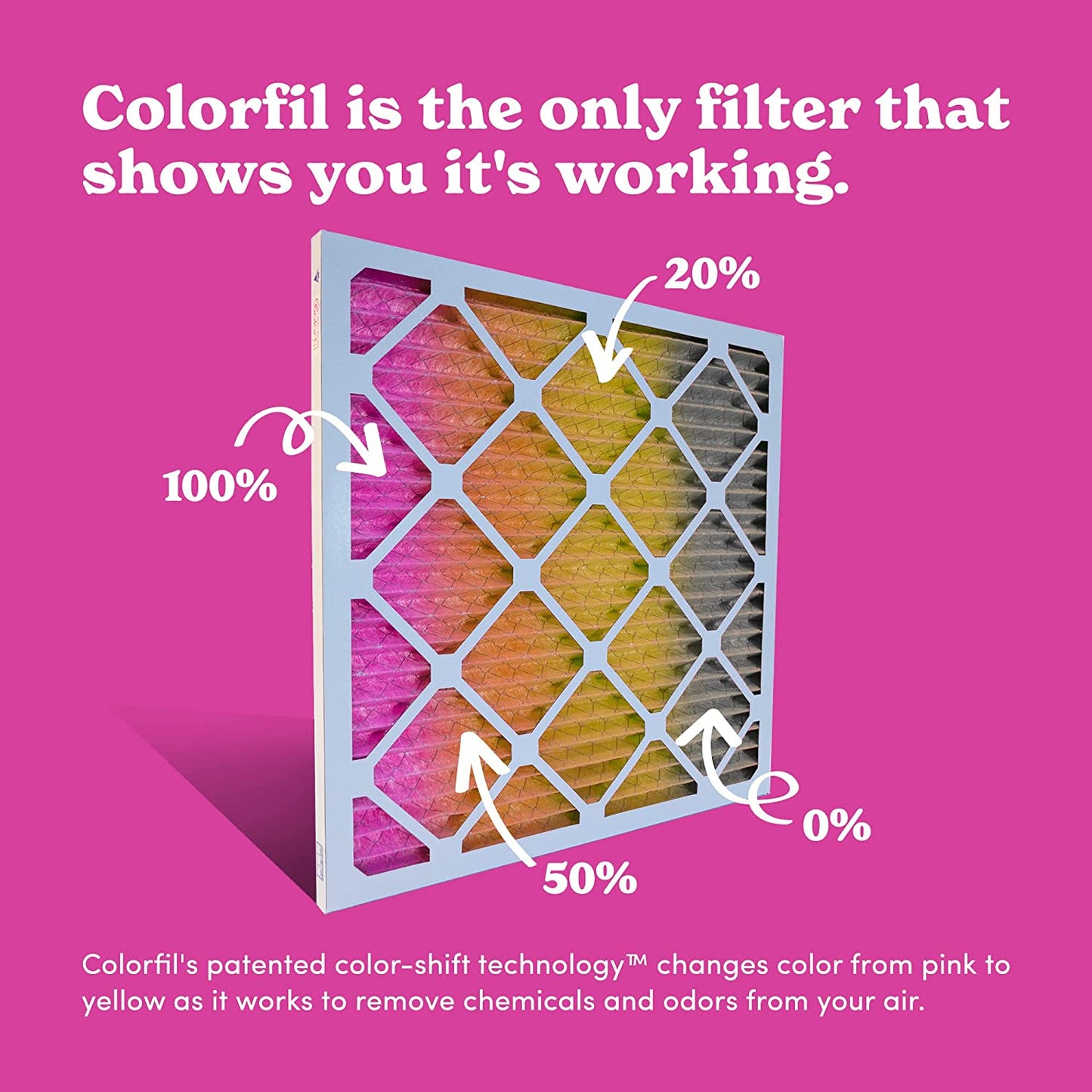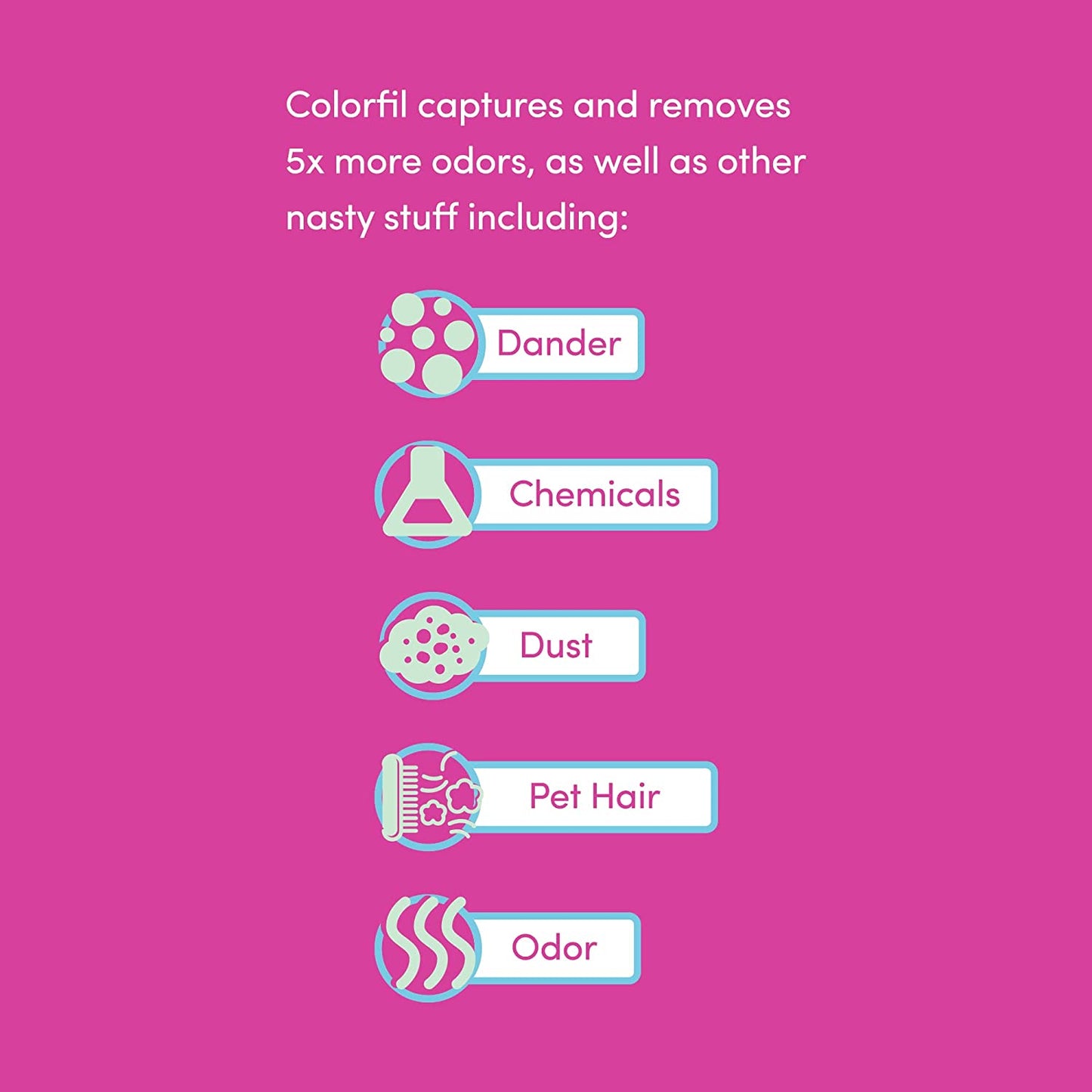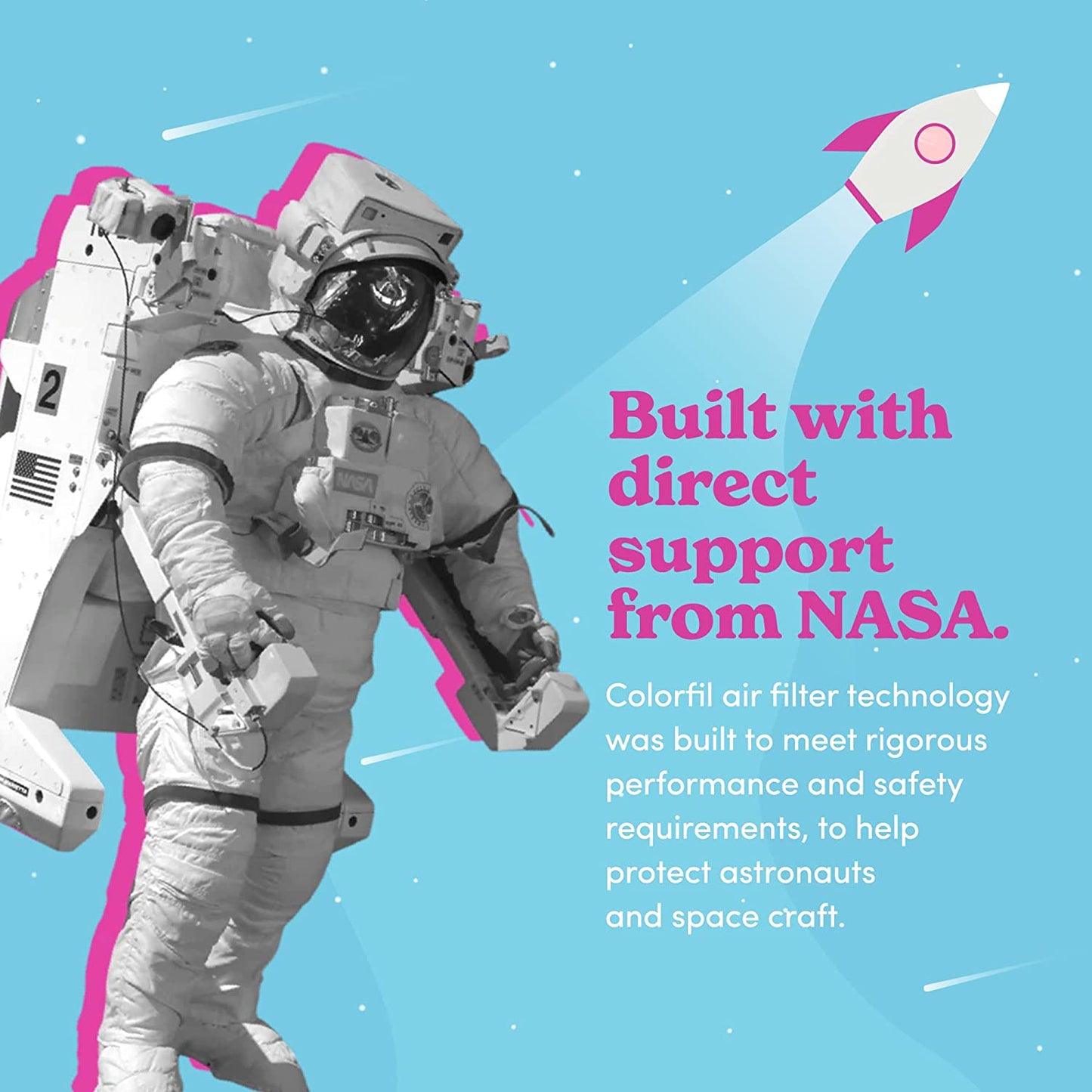 Size Chart
Nominal
Actual
1 inch depth exact sizes
12x12x1"
11.75 x 11.75 x 0.75"
12x24x1"
11.5 x 23.5 x 0.75"
14x14x1"
13.75 x 13.75 x 0.75"
14x24x1"
13.75 x 23.75 x 0.75"
14x20x1"
13.5 x 19.5 x 0.75"
14x25x1"
13.5 x 24.5 x 0.75"
14x30x1"
13.94 x 29.94 x 0.75"
16x16x1"
15.9 x 15.9 x 0.75"
16x20x1"
15.5 x 19.5 x 0.75"
16x24x1"
15.5 x 23.5 x 0.75"
16x25x1"
15.5 x 24.5 x 0.75"
18x18x1"
17.75 x 17.75 x 0.75"
18x20x1"
17.5 x 19.5 x 0.75"
18x24x1"
17.5 x 23.5 x 0.75"
18x30x1"
17.63 x 29.63 x 0.75"
20x20x1"
19.5 x 19.5 x 0.75"
20x24x1"
19.5 x 23.4 x 0.75"
20x25x1"
19.5 x 24.5 x 0.75"
20x30x1"
19.63 x 29.63 x 0.75"
24x24x1"
23.38 x 23.38 x 0.75"
24x30x1"
23.94 x 29.94 x 0.75"
25x25x1"
24.5 x 24.5 x 0.75"
4 inch depth exact sizes
16x20x4"
15 3/8 x 19 3/8 x 3 5/8"
16x25x4"
15 3/8 x 24 3/8 x 3 5/8"
20x20x4"
19 3/8 x 19 3/8 x3 5/8"
20x25x4"
19 3/8 x 24 3/8 x 3 5/8"
5 inch depth exact sizes
16x25x5"
15 ¾ x 24 ¾ x 4 3/8"
20x25x5"
19 7/8 x 24 ¾ x 4 3/8"
Got questions? We've got answers.
What is Colorfil?

Colorfil is a patented filtration technology developed by our founders to effectively clean indoor air from unwanted chemicals, unpleasant odors, and allergens while being safe for all pets and animals. 

The main active ingredient in Colorfil's color-shift coating is citric acid, a naturally derived chemical found in fruit. The coating changes color when it comes into contact with chemicals commonly found in the home. 

Colorfil was created out of personal need. Our founders were dismayed by their family's allergies and environmental sensitivities, but their concerns went beyond their health: they wanted to ensure their pets could breathe easily too.
What is Colorfil's MERV rating?

Regular filters only capture large particles, so you still smell that lingering odor after turning on your air system. Colorfil's safe and powerful patented technology captures and binds gas-phase chemicals and odors at the molecular level, which regular filters (even HEPA filters!) cannot.  

This means that in addition to removing 99.97% of airborne particles like pollen and dust mites, you're also eliminating unpleasant and, at times, unhealthy pet, kitchen, and bathroom odors.
What does Colorfil remove?

Colorfil is an air filter technology developed initially for NASA to remove odors in spacecraft and space suits. Over the years, it has evolved into air filtration that reduces many home chemicals and odors. 

Colorfil specifically targets ammonia and amine compounds responsible for many pet, bathroom, and kitchen odors and fumes from household cleaners. It also removes particles in our air, including pet dander and hair, pollen, dust, and other small particulates.
How does Colorfil work?

Colorfil features a built-in color indicator called color-shift that visually shows you it's cleaning your air and when it needs to be replaced. Colorfil changes color from pink to yellow as it attracts, absorbs, and neutralizes chemicals and odors from the air, in addition to capturing hair, dust, and pollen.
How quickly will the color change?

If you're new to using a Colorfil Air Filter, you might be wondering how long it will take for the color of your filter to change from pink to orange and then yellow. Everyone's situation is slightly different. Several factors impact this, including the number of pets in your home, how often your HVAC system is running, and the temperature and humidity in your area. So while we can't say with absolute certainty when this will happen in your particular case—it depends on too many factors—we can give a general idea of what to expect. 

Colorfil filters will change color from pink to orange to yellow over four weeks to 4 months. Although we suggest swapping out your filter when it reaches a yellow color, your yellow filter will continue to work effectively against odors and will gradually turn gray as it continues to capture dander, dust, pollen, and hair.
How often should I replace it?

To maintain high-quality, odorless air in your home, we recommend replacing your Colorfil filters within a week or two of changing to yellow. In the case of accelerated color change, we generally recommend replacing your filters every 30 days. 

As reported by the EPA, changing your filters regularly can improve your home air quality and reduce your energy use and costs. Your unique living environment will determine how regularly you change your filters, including # of occupants, pets, home location, time of year, etc. Unfortunately, it can be challenging to know what's the right cadence for you. Luckily, with Colorifl air filters knowing the right time to replace them is finally very easy.

For more information about how often to replace your filters, read our article "Clearing the Air: How Often Should You Change Your Air Filters?" on the Colorfil blog.
How does your subscription work?

When you click "Subscribe and Save" and purchase, you're eligible for a 10% discount. You are also automatically set up for recurring delivery, so you don't have to worry about forgetting to reorder! Default delivery intervals are two weeks and 1, 2, 4, 6, and 12 months for 1, 2, 4, 6, and 12+ packs, respectively, though you can adjust the interval, push back delivery, or cancel at any time.